2 zitplaatsen chinese reddings ambulance golf cart te koop
2 zitplaatsen redden golfkar met goede en concurrerende prijzen te koop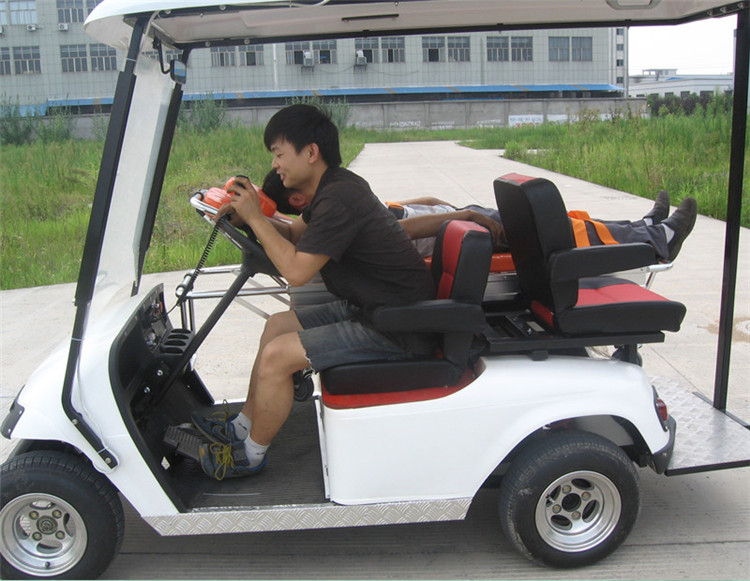 Belangrijkste specificaties voor batterijvermogen
Motor: 3kw DC of 4kw AC Motor Controller: Ingevoerde Curtis Controller, 275A-400A
Batterij: 48v 150ah Zes cellen 8-volt diep cyclus opslagbatterij
Batterij levensduur: meer dan 700 keer opladen cycli (voor standaard batterij)
Lader: 100-240v intelligente pulslading met de functie om de batterij te herstellen
Laadtijd: 8-10 uur
Remsysteem: Rem mechanische trommelrem plus pedaal parkrem
Transimissie: Directe aandrijving van de motoras
Bereik per lading: Meer dan 90kms Max.snelheid: 25km / u
Max.climbing: 30% (vol geladen) Curb gewicht: 460kgs
Belangrijkste specificaties voor gaskracht
Motor: 250cc GY6, Watergekoeld, 4-takt, enkele cilinder
Paardenspanning en koppel: 17HP (12.5KW), 17.6Nm Drive Trein: CVT (FNR)
Brandstoftank: 7L Bereik per volle tank: Meer dan 200kms
Transimissie: as aandrijving remsysteem: voor en achter hydraulisch
Max.snelheid: 45km / u Gewicht: 360kg
Max.climbing: 40% (volledig geladen)
Algemene specificaties
Passagier: 2 personen
Frame: gelast staal met dubbele coating (verzinkt frame is een optie)
Windscherm: Gehard glas (ontvouwbaar), Organisch glas (Opvouwbaar of onvoltooid)
Kleur: Om het even welke kleur als vereisten (wij accepteren ook aangepaste kleuren)
Stuurinrichting: Zelfcompenserende rek en tandwiel
Schorsing: zware bladveer met dumper en spring absorber
Accelerator: traploze snelheidsverandering
Achteras: Differentiaal model Startweg: Elektrische start met de sleutel
F & R band: 18 / 8.8-8 inch tubless met ijzeren rand
Remafstand: ≤4M Max.lading: 600kgs
Totale afmetingen: 2750 * 1200 * 1710mm in bodemvrijheid: 127mm
Wielbasis: 1640mm F & R Loopband: 840mm / 985mm
Verpakkingsgrootte: 3400x1200x950mm
Verpakking: Met irom-rack (Pak met dak, stoelen, stuurinrichting, ontlasting)
Laden: 10units / 20ft container, 20units / 40GP container, 30units / 40HQ container
Lichten: Koplampen, nachtlichten, achterlichten, remnoten, draaien
Extra Opties:
\
Verpakking en geladen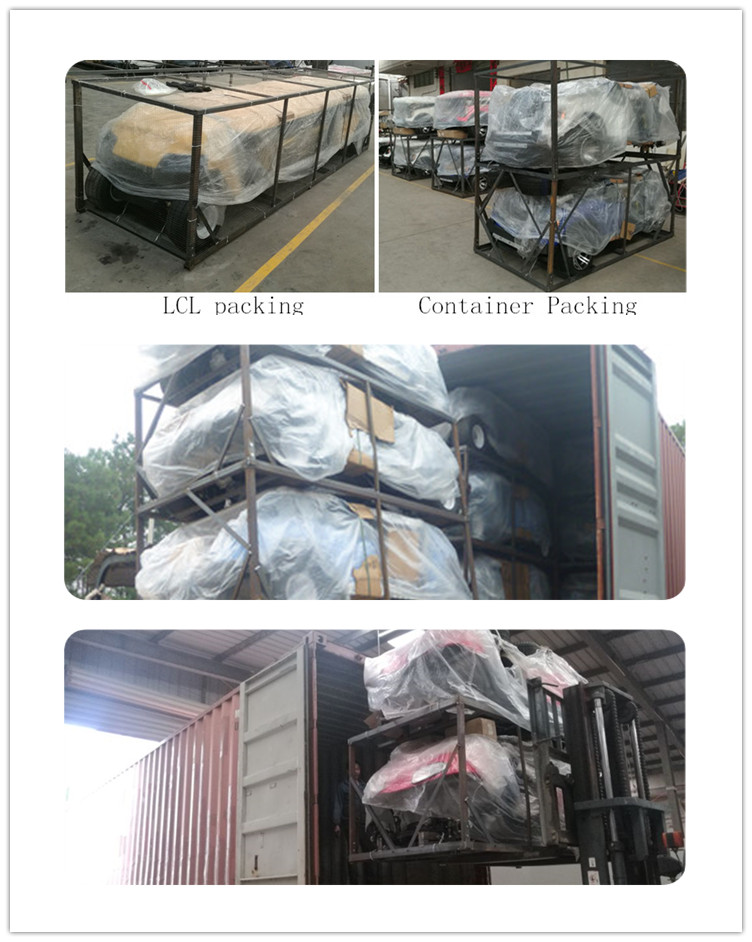 Bedrijfsinformatie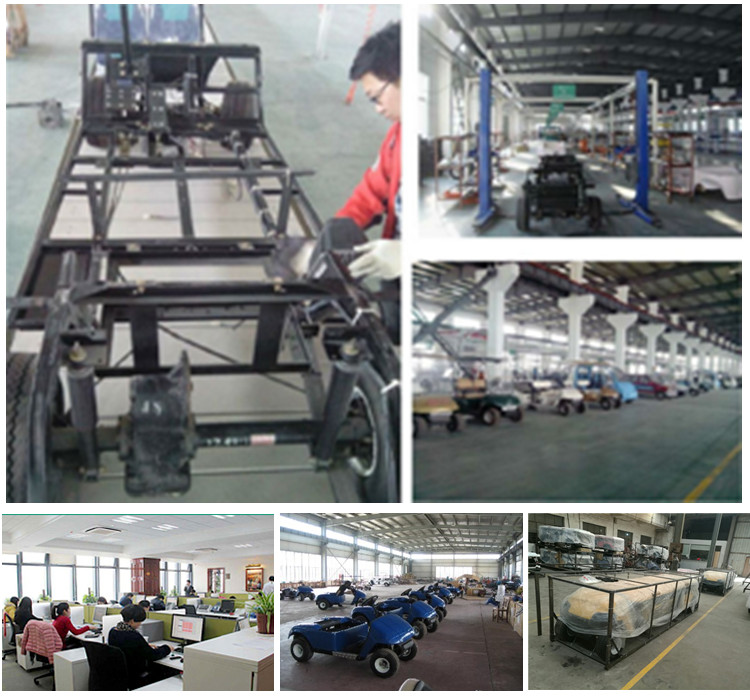 Yongkang jinghang sightseeing voertuig co., Ltd gespecialiseerd in het ontwerpen en produceren van gas-en elektrische golfwagens, sightseeing cars sinds 2002, dat is een van de vroegste fabriek in deze industrie in China, onze fabriek maken het frame en doe het schilderen door onszelf produceren we Gas golf cart sinds 2005 en currenty we zijn de enige fabriek die gas golfkarren produceert in China, de meeste van onze werknemers zijn zeer ervaren, bekwaam die de fabriek al vele jaren volgen, wij accepteren ook veel soorten OEM service.
certificaat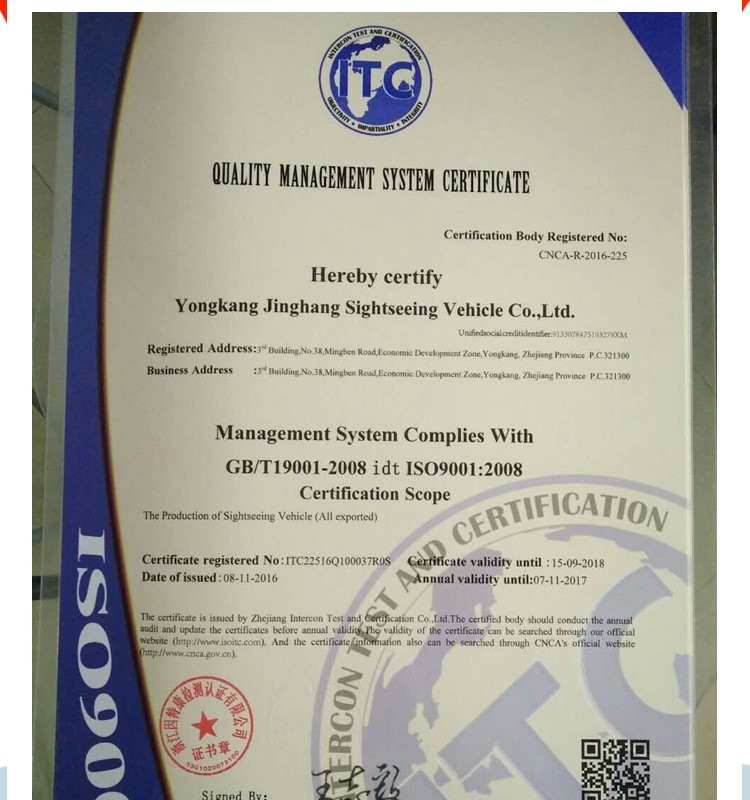 Onze voordelen
1: Concurrerende fabrieksprijzen, veel soorten (zoals ezgo, club auto en yamaha types) voor uw keuze.
2: Professionele en directe en snelle fabrieksdienst ondersteund.
3: Zowel gas aangedreven als batterij aangedreven worden aangeboden voor uw keuze
4: De vroegste fabriek in de industrie, ervaren en geschoolde werknemers, stabiele kwaliteit en goed vakmanschap.
5: Sterk productievermogen dat snelle en punctuele levering van uw bestellingen mogelijk maakt.
6: Veel van de OEM-diensten zijn aanvaardbaar indien nodig.
Klanten laten zien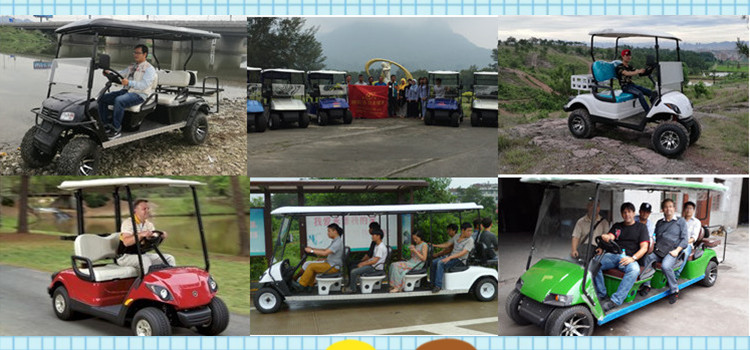 1.Wat Extra Optionals heb je voor deze golfkarretjes?
Verschillende lichaamskleuren, veiligheidsgordels, achterlader, binnenuitkijkspiegel, regenhoes, zonneschermkap, achterwipstoelen, aluminium chasis, voorkant gemonteerde mand, gps tracker, usb muziekspeler of andere opties als uw vereiste!
2. Garantietijd?
2 jaar

3.Hoe test je de afgewerkte producten voor verzending?
Voor de test hebben we toegewijde testpersonen, we doen de eerste test in de fabriek en daarna testen we ze door de 45 graden (voor gaskracht) ruwe moutain helling te beklimmen en lang rijden om ervoor te zorgen dat het goed werkt voordat u het laden!
4. Hoe werkt uw na service?
Wij hebben toegewijde after sales staffs die u professionele antwoorden of technische vragen kunnen aanbieden aan uw wensen!
5.We bieden OEM service aan?
Ja .
6.Wat is uw levertijd?
7-25 dagen
7.Wat betaalt u akkoord?
T / T, L / C, Aliababa Trade Assurance ,,, enz
8. Wat is uw levering methode?
Wij leveren normaal gesproken over zee.






Product Categorie : Rescue & Patrol Golf carts