2-zits benzine of gas aangedreven golfwagens te koop
2 benzine of gas aangedreven golfwagens kunnen worden uitgevoerd in golfbanen, parken, hotels, woongemeenschappen, industriële parken en andere plaatsen.
BATTERIJ VERMOGEN
Model nr .: JHGF-EE6S
BELANGRIJKE ONDERDELEN
Motor: 4kW DC of 5kw AC motor
Controller: Ingevoerde Curtis Controller, 275A-400A
Batterij: 48v 150Ah Zes cellen 8-volt deep-cycle (Standard)
Opties: Maintanenece accu
Charger: 100-240 intelligent pulse belast met de functie om de batterij te herstellen
LICHAAM & CHASSIS
Frame: Gelaste hoog intense staal met dubbele coating (gegalvaniseerd frame een optie)
Body & Roof: High compact PP plastic voorste en achterste lichaam cover, geïnjecteerd
Voorruit: gehard glas (uitklapbaar), organisch glas (Opvouwbaar of unfuldable)
Kussen & rugleuning: Reborn spons met kunstleer en kunststof afdekking van de onderkant (met verschillende kleuren)
Vloermat: Skidproof rubber
Dashboard: Zwarte plastic, met F / R-schakelaar, batterij-indicator, contactsleutel
Bekerhouders: 4 koppen houders
Kleur: Elke kleur als eisen (we accepteren ook aangepaste kleuren)
STEERING & SUSPENSION
Steering: Self-compenseren tandheugel
Vering: Lifted zware bladveer met dumper & lente absorber
Brake System: Achter mechanische trommelrem plus pedaal parkeerrem
Accelerator: traploze snelheidsverandering
Transimission: Motor Shaft Direct Drive
Rear Axle: Differential model
Gear Selectie: FNR
F & R band: 18 / 8,8-8 inch tubless met ijzeren rand (10 inch velg of off road band opties)
Begin manier: Elektrische start met sleutel
PRESTATIE
Passenger: 6 Persoon
Range (geladen): Meer dan 90 km
Max.snelheid: 25 km / h
Max.climbing vermogen (geladen): 30% (volgeladen)
Brake Afstand: ≤4M
Gewicht: 500kgs
Max.loading: 600kgs
Oplaadtijd: 8-10 uur
Batterij levensduur: Meer dan 700times laadcycli (voor standaard batterij)

DIMENSIES

Algemene afmetingen: 3800 * 1200 * 1710mm
Min bodemvrijheid: 127mm
Wielbasis: 3140mm
F & R Tread: 840mm / 985mm
Verpakkingsgrootte: 3800 * 1200 * 950mm
Verpakking: Met Irom Rek (Pack bovenste, zetels, stuurinrichting ,, dissambled)
Loading: 4units / 20ft container, 12units / 40GP container, 16units / 40HQ container

ELEKTRISCHE SYSTEMEN
Verlichting: Hoofd lichten, nacht lichten, achterlichten, rem nachten, turnning lichten, de lichten aangedreven voor een gasgestookte model is een 12v 12 ah droge batterij.
Combinatieschakelaar: Combinatie swith onder het stuur met switchs van koplamp, turnning lichten en claxon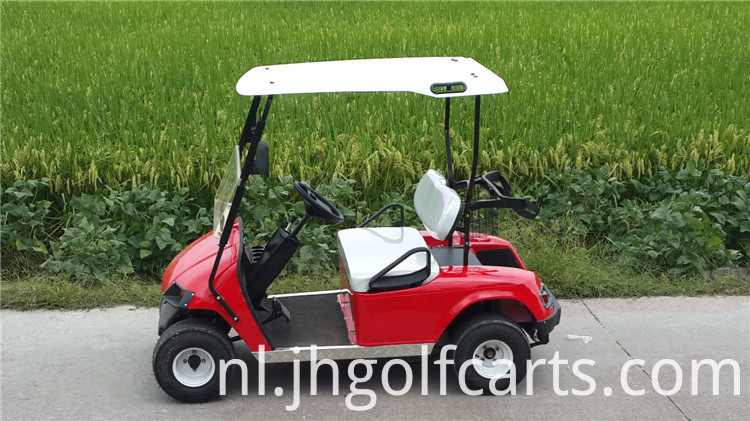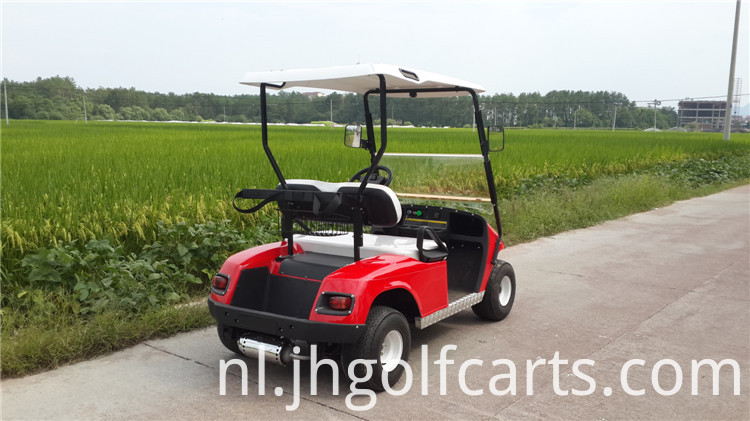 Product Categorie : Gas & Elektrische Golfkarretjes > 2 Seaters elektrische golfkarretjes